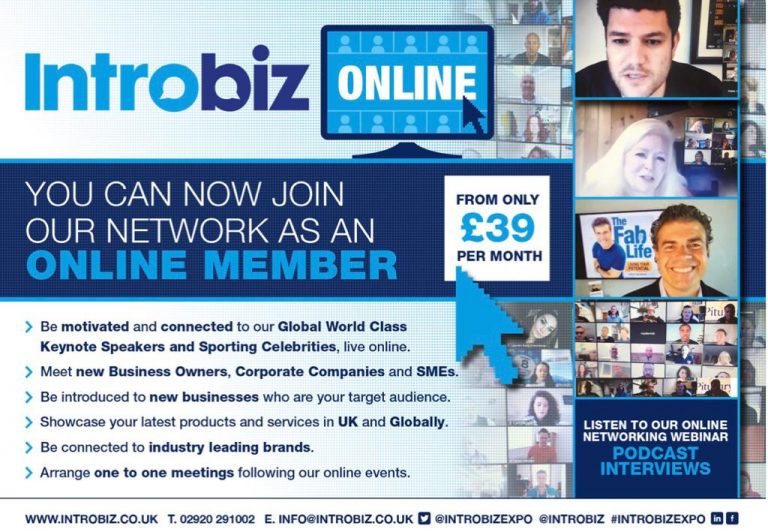 Regardless of industry, the coronavirus pandemic has affected all businesses and has forced many of us to adapt and change the some of the products and services we offer.
Introbiz has launched a brand new online networking events package – something you can take advantage of for only £39 + VAT a month.
The greatest advantage to the online package is that you can learn from world-renowned keynote speakers and entrepreneurs. Previously, we've welcomed Rich Dad, Poor Dad co-founder and former financial adviser to two presidents, Sharon Lechter, former BBC's The Apprentice contestants, Jessica Cunningham and Mark Wright, property investor and Secret Millionaire, Kevin Green, and global trainer and motivational speaker, Jairek Robbins. We've also previously worked and hosted events with the likes of Lord Alan Sugar, Sir Richard Branson and Grant Cardone.
Later this month, the line-up is set to become even more exciting. Introbiz will be welcoming global motivational keynote speakers Les Brown and Brian Tracy to share their expert knowledge and guidance. Les Brown is a dynamic personality and highly-sought-after resource in business and professional circles for Fortune 500 CEOs, small business owners, non-profit and community leaders from all sectors of society looking to expand opportunity. Brian Tracy is Chairman and CEO of Brian Tracy International, a company specializing in the training and development of individuals and organizations. He is among the top speakers, trainers and seminar leaders in the world today.
Since the online networking events were launched, Introbiz has welcomed over 900 businesses over a three month period. The success of these events have ensured that they will continue following the coronavirus pandemic.
The benefits of purchasing the online package also include being a part of Introbiz's exclusive online events where there are new global world-class keynote speakers and sporting celebrities speaking and offering support and guidance. It's also an opportunity to meet and connect with other business owners and SMEs who are also looking to connect with other businesses. During the events, there is an opportunity to be introduced to your target audience, listen to the latest business advice and be motivated to expand and grow your business further than ever before.
You can enjoy this exclusive online networking event package for only £39 + VAT a month. If you decide to pay annually, you can also take advantage of 2 months' free networking! If you'd like to enjoy online networking events as well as face to face events (these will be re-launched when it is safe to do so), then all you need to do is to upgrade your membership package.
If you'd like to find out more about the online networking events package or any other service Introbiz offers, such as networking training or our annual business Expos, then you can call the Introbiz team on 02920 291002 or email info@introbiz.co.uk.